BMW Geniuses Are Here to Help
Our team at BMW of Columbus wants to make sure that you can always have the most information about your new BMW model. A BMW Genius does more than just tell you what your vehicle can do, but is specially trained to help you learn how to use it. Our BMW Genius Team is here to help before, during, and after buying a BMW so that you can know everything you'll need to while making your decision. The BMW Genius program is much more than just someone to help you, it is a system that will always be available to you.


                                    
MEET THE BMW GENIUSES AT OUR DEALERSHIP
The best way to see what the BMW Genius team can offer is to come and talk to them for yourself. Our team is always eager to have you spend some time with us so that we can help you understand everything that your vehicle can do, helping you to get the most enjoyment out of every mile of your drive.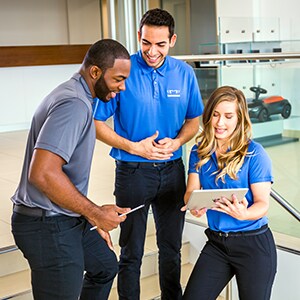 On the Go Help from the Genius App
For the most convenient access to how-to videos or explanations of important systems and functionalities, the BMW Genius App is here to help. Downloading this app onto your smartphone or tablet allows you to always have a Genius around to help you when you need it. Having all of the knowledge about your vehicle means that you can make the best use of all of the features that are available to you.
BMW Encore™ Takes You Further
Scheduling a BMW Encore™ appointment will provide you with the opportunity to talk to one of our Geniuses so that they can explain everything you want to know. This time is meant to answer all of the questions that you have, having you talk with one of our Geniuses so that they can give you an in-depth answer and walkthrough of the features that you are curious about.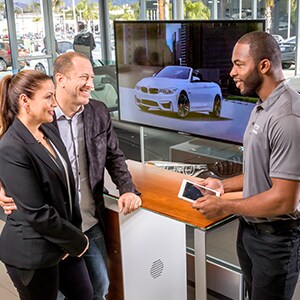 Hours
Monday

9:00 AM - 7:00 PM

Tuesday

9:00 AM - 7:00 PM

Wednesday

9:00 AM - 7:00 PM

Thursday

9:00 AM - 7:00 PM

Friday

9:00 AM - 7:00 PM

Saturday

9:00 AM - 6:00 PM

Sunday

Closed