BMW of Columbus is being honored as a BMW 2015 Center of Excellence - one of only 32 BMW dealerships given the award among BMW's 339 North American outlets. It brings with it a certain pride that is reflected in the staff.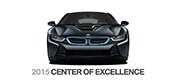 The Center of Excellence honor goes annually to dealerships that distinguish themselves through exceptional performance, consistent brand representation and dedication to providing an outstanding customer experience during the previous year. "Many of this year's winners have achieved this award over multiple years, which is proof they are delighting their customers at every turn," said BMW of North America CEO and President Ludwig Willisch.
" This award is all about our philosophy of treating customers like we like to be treated," said Sales Manager, Josh Dyal. "More than that, we have a passion for what we do and the BMW's we sell and maintain because they truly are the Ultimate Driving Machines. We do everything we can to share our passion with our customers. We're very proud that BMW recognizes our efforts."
BMW of Columbus is part of the Butler Automotive group of dealerships.